Aluminum alloy plate&Sheet is an industrial building material, which is used in various industries according to different materials. The aluminum alloy plate products produced by Xinkang include 7050, 7A09, 7A04 (aerospace super duralumin-aluminum-zinc alloy plate); 6063, 6082, 6061 (ordinary duralumin-aluminum-magnesium silicon alloy plate); 5754, 5083, 5052, 5A06 , 5A05 (anti-rust aluminum-aluminum-magnesium alloy plate); 3003, 3A21 (anti-rust aluminum-aluminum alloy plate); 2024, 2A12 (aviation duralumin-aluminum copper alloy plate); 1060, 1050 (industrial pure aluminum plate).

A Chemical composition of aluminum alloy plate / Sheet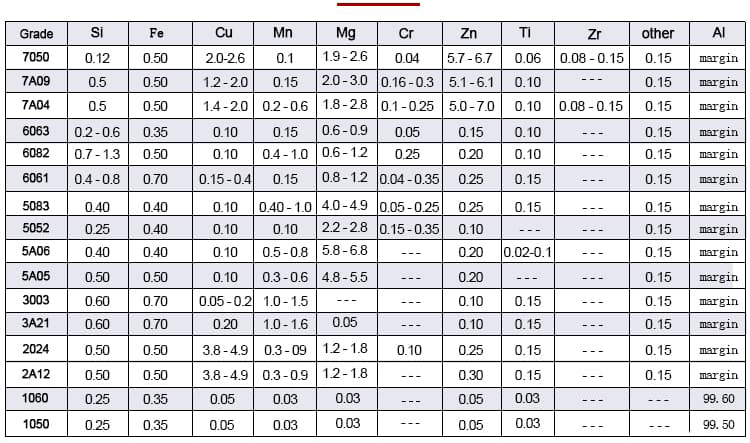 Mechanical properties of aluminum alloy plate / Sheet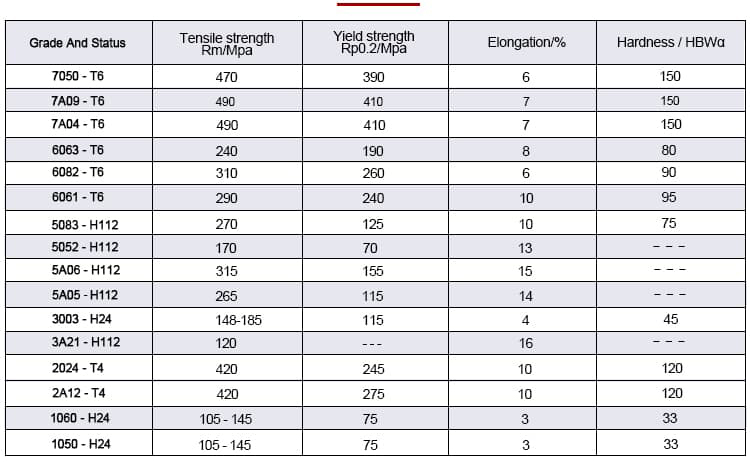 Physical properties of aluminum alloy plate / Sheet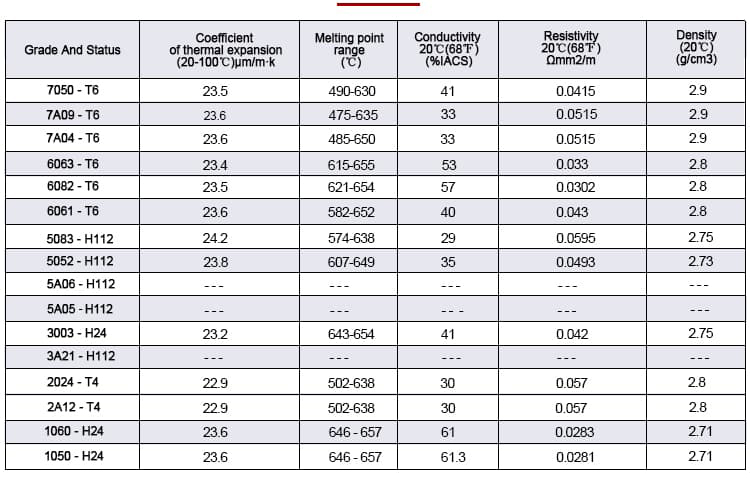 Aluminum alloy plate application
• The 1 series aluminum alloy plate belongs to the series with the most aluminum content. The purity can reach more than 99.00%. Because it does not contain other technical elements, the production process is relatively simple and the price is relatively cheap. It is currently the most commonly used series in conventional industries. The 1050 and 1060 series are currently circulated on the market.

• The 2 series aluminum sheet is characterized by high hardness, among which the copper element content is the highest, about 3-5%. The 2 series aluminum alloy sheet is aerospace aluminum, which is not often used in conventional industries.

• The 3 series aluminum alloy plate can also be called rust-proof aluminum plate. It is usually used in humid environments such as air conditioners, refrigerators, and undercars. The price is higher than that of the 1 series. It is a more commonly used alloy series.

• The 5 series aluminum alloy plate belongs to the more commonly used alloy aluminum plate series, the main element is magnesium, and the magnesium content is between 3-5%. It can also be called aluminum-magnesium alloy. The main features are low density, high tensile strength and high elongation. Commonly used in aviation, such as aircraft fuel tanks. It is also widely used in conventional industries. The processing technology is continuous casting and rolling, which belongs to the hot-rolled aluminum plate series, so it can be used for deep oxidation processing.

• The 6 series aluminum alloy sheet mainly contains two elements of magnesium and silicon, so the advantages of the 4 series and the 5 series are concentrated. 6061 is a cold-treated aluminum forging product, suitable for applications with high requirements for corrosion resistance and oxidation. Good workability, excellent interface characteristics, easy coating, and good processability. It can be used on low-pressure weapons and aircraft joints.

• The 7 series aluminum sheet mainly contains zinc. It also belongs to the aviation series. It is an aluminum-magnesium-zinc-copper alloy, a heat-treatable alloy, and a super hard aluminum alloy with good wear resistance. The 7075 aluminum plate is stress-relieved and will not be deformed or warped after processing. All super large and super thick All 7075 aluminum plates are ultrasonically detected, which can ensure no blisters and impurities. The high thermal conductivity of 7075 aluminum plates can shorten the forming time and improve work efficiency. The main feature is that the hardness 7075 is a high-hardness, high-strength aluminum alloy, which is often used in the manufacture of aircraft.