Tungsten alloy plate is a refractory metal sheet. The composition of the tungsten alloy is tungsten-nickel-iron, tungsten-nickel-copper, tungsten-nickel-copper or tungsten-nickel-copper-iron. Some tungsten alloys also contain other metal elements such as cobalt, molybdenum, and chromium. Tungsten alloys can be processed into various shapes, such as rods, cubes, blocks, rings and so on.
Tungsten Alloy Plate Specification
• Width:up to 500mm ; length: up to 1000mm
• Thickness: 1.0mm to 3.0mm ;3.0mm to10mm
• Density: 15.8-18.75 g/cm3
• Composition: Tungsten content: 85-99%, tungsten-nickel-iron, tungsten-nickel-copper
Tungsten Alloy PlateTechnical index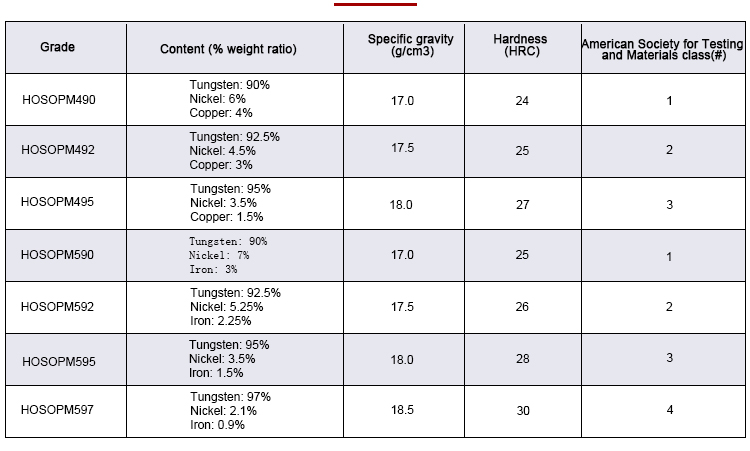 The use of tungsten alloy plate
• Sporting goods: used for tungsten alloy dart rods. Fishing sinkers: bullet-shaped, drop-shaped, tube-shaped and other shapes of fishing sinkers.
• Counterweight: Tungsten alloy plates can be used as counterweights in various fields, such as mechanical hammers, flying hammers, oil rig counterweights, dart bars, automobile counterweights, shock-proof tool holders, etc.
• Electrode material: Tungsten alloy sheet can be used to make electrodes, welding rods, electrical contacts and pneumatic circuit breakers.
• Electronic packaging sheet: Due to the high temperature resistance and good thermal properties of tungsten alloy, the electronics industry has begun to use tungsten alloy sheets as electronic packaging sheets.
• It can be used to make X-ray targets, collimators, nuclear fuel containers, needle tube shields, etc.