Molybdenum plate and molybdenum sheet have the characteristics of high melting point, good thermal conductivity, and good thermal expansion. It can resist oxidation at high temperature, and has the advantages of high strength and small deformation during processing.
Molybdenum plate/sheet Specification
Thicknesses Molybdenum Plate/Sheet - 0.10Mm to 4Mm
Width Molybdenum Plate/Sheet - 50Mm to 500Mm
Length Molybdenum Plate/Sheet - 500Mm to 2000Mm
Molybdenum plate allowable dimensional tolerance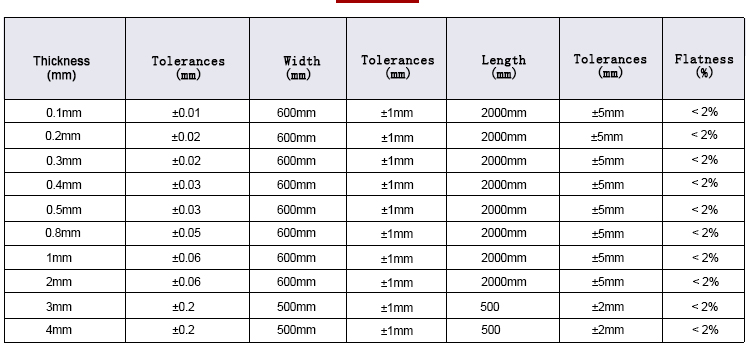 Molybdenum plate/sheet Applications
• Molybdenum plate is used for making electric light source parts, components of electric vacuum and electric power semiconductor.
• It is also used for producing molybdenum boats, heat shield and heat bodies in high temperature furnace.
• It is widely used in furnace construction mould and parts, electronic components manufacturing and semiconductor industry. In vacuum furnace and high temperature furnace and heat preservation material plate electrode, etc.